Jumbo Jet (Cedar Point)
Edit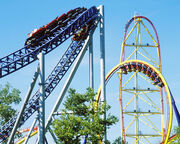 box" style="width:22em; vcard"
Jumbo Jet
[1]

Advertisement for Jumbo Jet

Cedar Point
Coaster's Status

Closed

Opening date
1972
Closing date
1978
Got Replaced by
WildCat
General Statistics
Type
Steel
Manufacturer
Anton Schwarzkopf
Designer
Ing.-Büro Stengel GmbH
Model
Jet Star 3 / Jumbo Jet
Lift/launch system
Electric spiral lift
Height
56 ft (17 m)
Length
2,854 ft (870 m)
Speed
50 mph (80 km/h)
Inversions
0
Duration
2:23
Capacity
1,200 riders per hour
Jumbo Jet at RCDB
Jumbo Jet was a steel roller coaster that operated from 1972 to 1978 at Cedar Point in Sandusky, Ohio. The coaster was a prefabricated roller coaster with an electric spiral lift mechanism.[1] It was one of the first coasters in the world to utilize this particular lift mechanism, and the coaster was also the first of its model type.[2] The Jumbo Jet, like all electric spiral lift roller coasters, reached the top of its lift hill by way of a gently-graded spiraling helix, before beginning its first drop. Unlike many roller coasters, which utilize a chain lift or launch, the Jumbo Jet was propelled with small wheel motors up the incline of the helix.[3] These sort of coasters soon became a very common type of steel roller coaster in the 1970s, and were distinguished from later steel roller coaster designs that were characterized by their thicker, tubular-steel tracks.[4]
[2][3] Jumbo Jet in July, 1973Jumbo Jet was manufactured by noted roller coaster designer Anton Schwarzkopf, and was the first of the Jet Star 3 / Jumbo Jet model line. The coaster stood in the same beach-front location where the wooden roller coaster Cyclone stood before,[5] and where the indoor roller coaster Disaster Transport stands today.[6] Jumbo Jet was known for its views of Lake Erie and steeply banked turns (some at up to 70 degrees).[7] While at Cedar Point, Jumbo Jet carried between 1.6 and 1.8 million passengers every year.[8] Jumbo Jet was finally replaced in 1979 by the new WildCat coaster.[5] Although Jumbo Jet was only at Cedar Point for a total of 6 years, the coaster subsequently moved to a large number of different amusement parks, including Palace Playland in Old Orchard Beach, Maine; Malmö Folkets Park in Malmö, Skåne, Sweden; Beoland in Nizhny Novgorod, Russia; and finally Dreamland in Minsk, Belarus.[1]
References
Edit
External links
Edit
Community content is available under
CC-BY-SA
unless otherwise noted.