=Iron Dragon =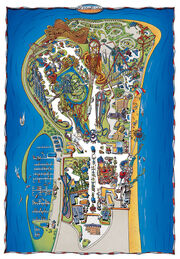 Iron Dragon is a Steel suspended roller coaster located at Cedar Point in Sandusky, Ohio, built in 1987 by Arrow Dynamics. It is located in the Celebration Plaza section of the park. It closes for about 45 minutes every night for Luminosity — Ignite the Night!, a nighttime show that takes place right in front of Iron Dragon.
This type of roller coaster features cars that hang beneath the track by a chassis allowing them to swing side to side. Some parts of the ride are built on artificial lagoons, and the track takes riders into wooded areas and over water. Iron Dragon is one of two roller coasters at Cedar Point to utilize two separate lift hills, the other being Cedar Creek Mine Ride. Both hills are built side by side and head in opposite directions.
[2][3] Iron Dragon with red track with gray supports, used before 2004Before the Iron Dragon's 1987 debut, the Western Cruise (later known as Paddlewheel Excursions) boats circumnavigated the waters around this island. The popular boat ride's station sat on the same part of the midway where Iron Dragon's station rests today (In fact, observant Iron Dragon riders can still spot the docking cleats welded to the dock while climbing the stairs to the boarding station). The Monster circular ride used to call the land under Iron Dragon's transfer track home. Monster closed on Labor Day weekend in 1986 so Iron Dragon construction could begin. Planning for Iron Dragon began in 1985, the same year the Frontier Lift cable car ride (similar to the Sky Ride found on Cedar Point's main midway) opened for its final season.
In the early and mid-1990s, a "remote a boat" game was housed in the water under Iron Dragon's final helix element. This was removed in 1997.
Color scheme
Edit
Iron Dragon's previous color scheme was red track with gray supports, similar paint schemes to that of Ninja's at Six Flags Magic Mountain and Vortex at Canada's Wonderland (both are also Arrow suspended swinging coasters). In 2004, the supports were repainted yellow, giving Iron Dragon the same paint scheme as Top Thrill Dragster.
External links
Edit
Media related to Iron Dragon (roller coaster) at Wikimedia Commons

Community content is available under
CC-BY-SA
unless otherwise noted.